Teacher's Competences – Prospects for Development and Professional Training
Elżbieta Jaszczyszyn

Faculty of Pedagogy and Psychology, University of Białystok

Andrzej Cichocki

Faculty of Pedagogy and Psychology, University of Białystok
Keywords:
teacher's competences / development of competences / professional development / perspective of development
Abstract
After brief remarks related to the current discourse present in the professional literature on the perspective of the development of competences and professional improvement, this text focuses on ideas which have important implications for their perspective of development and the assessment of the process of professional improvement of teachers, namely (a) building teachers' professionalism, especially for those who are trapped in an increasingly formalized system, based on documents, content of teachers training courses and then in a rigid career path and (b) defining and assessing the standards of the professional development process. The text ends with the thesis that the most valuable resources available in each school are the teachers, that there is an urgent need to remodel the current system and to concentrate on strengthening the potential present in the idea of the professionalization of teachers (and their assessment) in terms of teaching standards (related to what they should know and be able to do).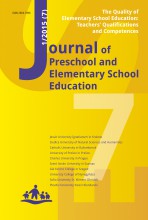 How to Cite
Jaszczyszyn, E., & Cichocki, A. (2018). Teacher's Competences – Prospects for Development and Professional Training. Multidisciplinary Journal of School Education, 7(1). Retrieved from https://czasopisma.ignatianum.edu.pl/jpe/article/view/1124
Section
Thematic Articles
1. The Author/Authors agree(s) to publish the article free of charge in Multidisciplinary Journal of School Education in English or Spanish. The Editorial Board reserves the right to shorten the texts and change the titles.
2. As part of free publication mentioned in § 1, the Author/Authors agrees to make the full electronic version of their article available in the Internet.
3. The Author/Authors agrees to index their article in databases at home and abroad, including abstracts and keywords as well as Author's/Authors' affiliation in English and in other languages. The Author/Authors agrees to pass on the information mentioned above to the owners of these databases.
4. The Author/Authors declares that their publication is original and does not include borrowings from other works which might cause Publisher's responsibility, does not infringe the rights of the third party and that their copyright on this publication is not limited. The Author/Authors will incur all the costs and will pay compensations which might result from the mendacity of the following statement.
5. The Author/Authors declares to bear complete responsibility for the scientific reliability of the article submitted. The detailed contribution of all co-authors is defined.
6. The Author/Authors declares to publish the text in the Multidisciplinary Journal of School Education under a Creative Commons Attribution-NoDerivatives 4.0 International License (CC BY-ND 4.0).