Cultural Inclusion: Formal Schooling for Children from Families of Refugee Backgrounds
Monika Krajčovičová

Griffith University

Erika Novotná

Presov University
Abstract
All communities of refugee backgrounds should feel supported by the state and the majority, and have the power to strive for a better quality of life, while still being able to proudly proclaim their own culture in formal schooling. Culturally inclusive schools appreciate diversity, perceive it as a natural part of a modern society, and encourage all individuals regardless of their cultural background, race, ethnicity, religion, beliefs, gender, or language. This study is a theoretical introduction to the pilot project concerning the expectations and experiences of parents with refugee backgrounds in the context of early learning for their children in Australia. We look at diversity and the successful inclusion of children from refugee backgrounds families into formal schooling by creating culturally inclusive, safe and supportive learning environments.
Keywords: Cultural Inclusion. Diversity. Inclusion. Formal Schooling.
Refugees. Refugee Backgrounds People. Australian Education. Culturally Inclusive Schools. Safe and Supportive Learning Environment.
References
Abood J. et al., (2011). Diversity in Practice. A Resource Kit for Early Childhood Services Working with Children and Families from Migrant and Refugee Backgrounds in the Nepean Area. Family Worker Training and Development Programme, 2011.
Australian Government. Department of Immigration and Border Protection (2015). Fact sheet - Australia's Refugee and Humanitarian programme. Retrieved from <http://www.border.gov.au/about/corporate/information/fact-sheets/60refugee#a>
Australian Government. Department of Social Services (2015). Settlement and Multicultural Affairs. Syrian/Iraqi humanitarian crisis. Retrieved from <https://www.dss.gov.au/settlement-and-multicultural-affairs-programs-policy/syrianiraqi-humanitarian-crisis>
Barker M., Frederiks E., Farrelly B., (2009). GIHE Good Practice Resource Booklet on Designing Culturally Inclusive Learning and Teaching Environments. Extract. Retrieved from <http://www.griffith.edu.au/__data/assets/pdf_file/0011/184853/Creating-a-Culturally-Inclusive-Classroom-Environment-mcb2.pdf>
Early Years Learning Framework (2009). Belonging, Being & Becoming. Produced by the Australian Government Department of Education, Employment and Workplace Relations for the Council of Australian Governments. Commonwealth of Australia, 2009. ISBN 978-0-642-77873-4.
Early Years Learning Framework (2009). Principles. 2. Partnerships (p. 12). Retrieved from <https://www.coag.gov.au/sites/default/files/early_years_learning_framework.pdf>
Emerson L., Fear J., Fox S., and Sanders E., (2012). Parental Engagement in Learning and Schooling: Lessons from Research. A report by the Australian Research Alliance for Children and Youth (ARACY) for the Family–School and Community Partnerships Bureau: Canberra, 2012.
Losoncz I., (2015). The Government Just Stops Parents Parenting – Finding Better Ways to Build Safety around Children in Families from a Refugee Background. RegNet Working Paper, No. 76, Regulatory Institutions Network.
Matthews, J. (2008). Schooling and Settlement: Refugee Education in Australia. International Studies in Sociology of Education, Vol. 18, Iss. 1, 2008.
Murray, E., Ganim, Z. (2011). Working with Children from a Refugee Background. ISBN 78-1-921908-16-3.
NSW Refugee Health Service (2004). Working with Refugee Families and Children. Retrieved from <http://www.mncdgp.org.au/system/file /Working%20with%20Refugees%20Resource.pdf>
Taylor S., Sidhu R., (2009). Supporting Refugee Students in Schools: what Constitutes Inclusive Education? Retrieved from <https://espace.library.uq.edu.au/view/UQ:21155 /UQ211558_author_copy.pdf>
The Early Years Learning Framework for Australia (2009).
The Victorian Foundation for Survivors of Torture Inc. (2015). Educating Children from Refugee Backgrounds: A Partnership Between Schools and Parents. Retrieved from <http://www.foundationhouse.org.au/wp-content/uploads/2015/06/EDUCATING_CHILDREN_REFUGEE_BACKGROUND_A4_ONLINE.pdf>
Victoria State Government. Education and Training (2015). Support for Refugee Students. Retrieved from <http://www.education.vic.gov.au/school/teachers/teachingresources/diversity/eal/pages/ealsupportrefugee.aspx>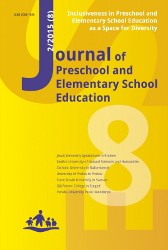 How to Cite
Krajčovičová, M., & Novotná, E. (2017). Cultural Inclusion: Formal Schooling for Children from Families of Refugee Backgrounds. Multidisciplinary Journal of School Education, 8(2). Retrieved from https://czasopisma.ignatianum.edu.pl/jpe/article/view/804
Section
Thematic Articles
1. The Author/Authors agree(s) to publish the article free of charge in Multidisciplinary Journal of School Education in English or Spanish. The Editorial Board reserves the right to shorten the texts and change the titles.
2. As part of free publication mentioned in § 1, the Author/Authors agrees to make the full electronic version of their article available in the Internet.
3. The Author/Authors agrees to index their article in databases at home and abroad, including abstracts and keywords as well as Author's/Authors' affiliation in English and in other languages. The Author/Authors agrees to pass on the information mentioned above to the owners of these databases.
4. The Author/Authors declares that their publication is original and does not include borrowings from other works which might cause Publisher's responsibility, does not infringe the rights of the third party and that their copyright on this publication is not limited. The Author/Authors will incur all the costs and will pay compensations which might result from the mendacity of the following statement.
5. The Author/Authors declares to bear complete responsibility for the scientific reliability of the article submitted. The detailed contribution of all co-authors is defined.
6. The Author/Authors declares to publish the text in the Multidisciplinary Journal of School Education under a Creative Commons Attribution-NoDerivatives 4.0 International License (CC BY-ND 4.0).