Stimulation of Children's Text Comprehension in Primary Education – On One Educational Strategy
Ľudmila Liptáková

University of Prešov, Slovak Republic

Dana Cibáková

University of Prešov, Slovak Republic
Keywords:
text comprehension / reading literacy / mother tongue / primary education / linguistic processes / cognitive processes / informational reading / educational strategy
Abstract
The paper explores the possibilities for developing reading comprehension by a pupil in primary education in the Slovak Republic. The need for scientific research into developing reading literacy in Slovakia, with its educational implications, is growing as a result of the unsatisfactory state of the current educational context. In this paper, we present an educational strategy focused on the development of comprehension of an informational text in primary school pupils. The strategy is based on the outcomes of previous research on the effectiveness of developing text comprehension on the basis of parallel stimulation of linguistic and cognitive processes. The presented stimulation programme offers a model for school education and for teachers how to proceed with the systematic development of comprehension of an informational text. At the same time, we offer the presented strategy for developing the reading literacy of a pupil for comparison with educational strategies in different countries.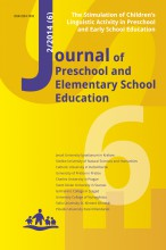 How to Cite
Liptáková, Ľudmila, & Cibáková, D. (2019). Stimulation of Children's Text Comprehension in Primary Education – On One Educational Strategy. Multidisciplinary Journal of School Education, 6(2). Retrieved from https://czasopisma.ignatianum.edu.pl/jpe/article/view/1296
Section
Thematic Articles
1. The Author/Authors agree(s) to publish the article free of charge in Multidisciplinary Journal of School Education in English or Spanish. The Editorial Board reserves the right to shorten the texts and change the titles.
2. As part of free publication mentioned in § 1, the Author/Authors agrees to make the full electronic version of their article available in the Internet.
3. The Author/Authors agrees to index their article in databases at home and abroad, including abstracts and keywords as well as Author's/Authors' affiliation in English and in other languages. The Author/Authors agrees to pass on the information mentioned above to the owners of these databases.
4. The Author/Authors declares that their publication is original and does not include borrowings from other works which might cause Publisher's responsibility, does not infringe the rights of the third party and that their copyright on this publication is not limited. The Author/Authors will incur all the costs and will pay compensations which might result from the mendacity of the following statement.
5. The Author/Authors declares to bear complete responsibility for the scientific reliability of the article submitted. The detailed contribution of all co-authors is defined.
6. The Author/Authors declares to publish the text in the Multidisciplinary Journal of School Education under a Creative Commons Attribution-NoDerivatives 4.0 International License (CC BY-ND 4.0).