Los mitos como herramientas para la formación del carácter
Keywords:
mito, educación, carácter, fortaleza, resiliencia
Abstract
El trabajo estudia la relación entre la literatura y la formación del carácter (resiliencia, fortaleza), centrándose en textos literarios que pertenecen al patrimonio inmaterial de la humanidad: los mitos. Los mitos en cualquiera de sus tipos (etiológicos, cosmogónicos, teogónicos, antropogónicos, sociales, etc.) no son sólo el marco superior de comprensión del mundo sino que además son hojas de ruta para saber a qué atenerse en la vida; proponen modelos a imitar. En concreto encontramos que la resiliencia (fortaleza) es uno de los valores fundamentales que se transmiten en las narraciones míticas de todas las culturas. A ello dedicamos el presente trabajo centrándonos en los héroes de sagas míticas ancestrales (Giglamesh, Rama, Ulises) y de otros mitos menores (Hunahpú e Ixbalanqué, Izanagui, Tyr). El empleo de estos mitos en el mundo de la pedagogía no es sólo un entretenimiento curioso, sino que recupera al menos uno de los sentidos originales de la educación al constituirse en paradigmas de acción para el educando.
References
• Aristóteles (2004). Magna Moralia. Buenos Aires: Losada.
• Arnau, J. (2013). Buda histórico y buda legendario. Tradiciones hagiográficas de Siddharta Gautama. En Estudios de Asia y África, México, vol. XLVIII, nº 3, 641-656.
• Bonds, C. (2016). Best storytelling practices in education. Tesis doctoral. Malibú, California: Universidad de Pepperdine.
• Campbell, J., (2018) Las máscaras de Dios, IV, Mitología Creativa. Atalanta.
• Cencillo, L. (1998). Los mitos, su mundo y su verdad. Madrid: BAC.
• Cruz Hernández, M. (1977). Mahoma, ejemplo y modelo de virtudes. En Encuentro. Documentos para el entendimiento islamo-cristiano. nº 62, 1-11.
• Danielou, J. (1967). Mitos paganos y misterio cristiano. Andorra: Casal i Vall.
• Díez de Velasco, F. (1997). El mito y la realidad. en Díez de Velasco, F; Martínez, M; Tejera, A. (eds.) Realidad y mito. Madrid: Ediciones clásicas.
• Eliade, M. (1991). Mito y realidad. Barcelona: Labor.
• García Gual, C. (1984). La interpretación de los mitos antiguos en el siglo XX. En Alcina J. (comp). El mito ante la antropología y la historia. Madrid: CIS.
• Girard, R. (1985). Mentira romántica y verdad novelesca. Barcelona: Anagrama.
• Homero. (2013) Odisea. Versión de Carlos García Gual. Madrid: Alianza.
• Lara Peinado F. (ed. y trad.) (2010). Poema del Gilgamesh. Madrid: Tecnos.
• Propp, V. (1974). Morfología del cuento. Madrid: Fundamentos.
• Ries, J. (2011). El mito y su significado. Barcelona: Edición Azul.
• Rodríguez Adrados, F. (1984). El mito griego y la vida de Grecia. En Alcina J. (comp.), El mito ante la antropología y la historia. Madrid: CIS.
• Rubio, C. Tami, R. (ed. y trad.) (2008). Kojiki, Crónicas de antiguos hechos de Japón. Madrid: Trotta.
• Sturlson, S. (2000). Edda Menor. Madrid: Alianza.
• Temprado M. D. (2015). Personalidad, resiliencia y ajuste a la enfermedad en pacientes portadores de una enterostomía de eliminación. Tesis doctoral. Castellón: Universidad Jaime I.
• Tomás de Aquino, Sto. Suma Teológica, en hjg.com.ar/sumat/
• Valmiki (1992). El Ramayana de Valmiki. México: Porrúa.
• Vida, C. Rivera, M. (ed. y trad.) (2017). Popol Vuh. Madrid: Alianza.
• Widengren, G. (1973). Fenomenología de la religión. Madrid: Cristiandad.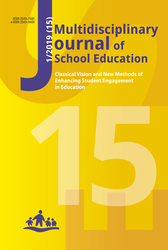 How to Cite
Vilarroig, J. (2019). Los mitos como herramientas para la formación del carácter. Multidisciplinary Journal of School Education, 8(1 (15). Retrieved from https://czasopisma.ignatianum.edu.pl/jpe/article/view/1177
Section
Thematic Articles
This work is licensed under a Creative Commons Attribution-NoDerivatives 4.0 International License.
The Author/Authors agree(s) to publish the article free of charge in Multidisciplinary Journal of School Education in English or Spanish. The Editorial Board reserves the right to shorten the texts and change the titles.
As part of free publication mentioned in § 1, the Author/Authors agrees to make the full electronic version of their article available in the Internet.
The Author/Authors agrees to index their article in databases at home and abroad, including abstracts and keywords as well as Author's/Authors' affiliation in English and in other languages. The Author/Authors agrees to pass on the information mentioned above to the owners of these databases.
The Author/Authors declares that their publication is original and does not include borrowings from other works which might cause Publisher's responsibility, does not infringe the rights of the third party and that their copyright on this publication is not limited. The Author/Authors will incur all the costs and will pay compensations which might result from the mendacity of the following statement.
The Author/Authors declares to bear complete responsibility for the scientific reliability of the article submitted. The detailed contribution of all co-authors is defined.
The Author/Authors declares to publish the text in the Multidisciplinary Journal of School Education under a Creative Commons Attribution-NoDerivatives 4.0 International License (CC BY-ND 4.0).
For more than one author, please complete the Authorship Contributions and send it to the editorial office. Please indicate the specific contributions made by each author (list the authors' initials, e.g., JKH). Please download, complete, scan and attach the file in the system during the submission process.
Authors Statement - Authorship Contributions