A Study of Student Reactions and Attitudes to Non-traditional Pedagogy in Very Early Language Learning
Ekaterina Sofronieva

"St. Kliment Ohridski" University of SoHa, Bulgaria
Keywords:
early foreign language teaching and training, course evaluation, the Narrative Format model
Abstract
This paper presents the introduction of a new instructional tool for Initial Teacher Education in Early Childhood language at "St. Kliment Ohridski" University of Sopa in Bulgaria. The aim of the study was to train university undergraduate students in the Narrative Format model of foreign language teaching and learning, and to conduct research into their opinions and evaluation of the course at the end of the academic year. Our belief was that students' evaluation of the course that was onered to them would conprm its value as an educational tool. The results proved that Bulgarian students are in search of, and open to new working methodologies and classroom practices. As a result of the positive outcomes and students' extremely positive evaluation of the model, it has been incorporated into their university studies and nursery practice for another consecutive year.
References
Colibaba A., Gheorghiu E., Dinocrocs Travel to Romania, "Preduchilishtno Vuzpi-
tanie" ["Pre-school Education"], 9 (2011), p. 20–31.
Davis M. H., A Multidimentional Approach to Individual Differences in Empathy, JSAS
Catalog of Selected Documents in Psychology, 10 (1980), p. 85–104.
Sofronieva E., The Efficacy of the Narrative Format Model in Early Childhood Teacher
Preparation, in: L. Kospartova, T. Diakov, S. Altukov, et al. (eds.) "Annuaire De
L'Universite De Sofia «St. Kliment Ohridski» Faculté De Formation D'Edu-
cateurs et D'Instituteurs," Tome 104 (p. 25–43), Sofia 2012.
Taeschner T., The Magic Teacher. Learning a foreign language at nursery school –
results from the project, London 2005.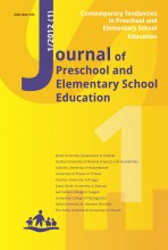 How to Cite
Sofronieva, E. (2019). A Study of Student Reactions and Attitudes to Non-traditional Pedagogy in Very Early Language Learning. Multidisciplinary Journal of School Education, 1(1). Retrieved from https://czasopisma.ignatianum.edu.pl/jpe/article/view/1245
Section
Thematic Articles