Motivation for the use of Content and Language Integrated Learning (CLIL) at the Slovak minority school in Hungary
Ján Gunčaga

PhD Catholic University in Ružomberok, Faculty of Education, Department of Mathematics Hrabovská 1, 03401 Ružomberok, Slovak Republic & Szent István University Faculty of Education Szabadság út 4, 5540 Szarvas, Hungary
Keywords:
Content and Language Integrated Learning (CLIL), Slovak minority school, primary education, mathematics education
Abstract
Content and Language Integrated Learning (CLIL) can support the use of a minority language in different subjects. In our paper we present this method in the case of school mathematics. First, we describe the process of gaining knowledge in teaching mathematics. We will then present some students' work who will be future Slovak minority teachers.
References
Beardsmore B.H., Multilingualism, Cognition and Creativity, in: "International CLIL
Research Journal", Jyvaskyla University, (1) 2008, p. 4–19.
Billich M., The use of geometric place in problem solving, in: Teaching Mathematics:
Innovation, New Trends, Research. Ružomberok 2009, p. 7–14.
CLIL-Obsahovo a jazykovo integrované vyučovanie (CLIL) v škole v Európe, Európska kancelária Eurydice, Brussels 2006, in: <http://www.eurydice.org>.
Domínguez H., Using what matters to students in bilingual mathematics problems,
in: "Educational Studies in Mathematics", 76 (2011) p. 305–328.
Hejný M. et al., Creative Teaching in Mathematics, Univerzita Karlova v Praze, Pedagogická fakulta, Prague 2006.
Krech I., Prawdopodobieństwo w pewnych argumentacjach na lekcji matematyki, in: Autentické vyučovanie a využitie medzipredmetových vzťahov vo
vyučovaní matematiky. Zborník príspevkov, Pedagogická fakulta UMB, Banská
Bystrica, 2. konferencie učiteľov matematiky 2000, p. 57–61.
Pólya G., A problémamegoldás iskolája, Budapest 1971.
Uherčíková, V., Vankúš, P., Netradičné metódy vo vyučovaní matematiky, in: Dva dny
s didaktikou matematiky: Sborník příspěvků, Univerzita Karlova, Praha 2010,
p. 83–85.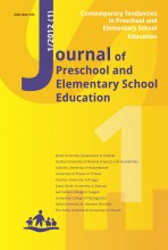 How to Cite
Gunčaga, J. (2019). Motivation for the use of Content and Language Integrated Learning (CLIL) at the Slovak minority school in Hungary. Multidisciplinary Journal of School Education, 1(1). Retrieved from https://czasopisma.ignatianum.edu.pl/jpe/article/view/1248
Section
Thematic Articles