Applying Multicultural Education at School, or How to Lead Pupils to Tolerance
Mária Vargová

Catholic University in Ružomberok, Slovak Republic
Keywords:
Multicultural Education, Tolerance, Coexistence, Primary Education, Methodics
Abstract
Multicultural education is a cross-cutting theme in the state educational programme ISCED 1 – primary education. In primary education, multicultural education can be taught as a separate subject or it can be included in other ongoing subjects. When applying multicultural education it is also important that the teacher doesn't have prejudices against any ethnic group or nationality. He/she should also use appropriate methods that lead to pupils becoming more tolerant.
References
BEDNÁŘOVÁ, J. – ŠMARDOVÁ, V. 2007. Diagnostika dítěte předškolního věku. Co
by dítě mělo umět ve věku od 3 do 6 let. Brno : Computer Press, a. s. 2007.
s. ISBN 978-80-251-1829-0.
KARBOWNICZEK, J. a kol. 2011. Predškolská pedagogika s metodikou. Ružomberok:
Verbum, 2011. 286 s. ISBN 978-80-8084-807-1.
KOŽUCHOVÁ, M. 2011. Diagnostikovanie žiaka v technickom vzdelávaní. In Kožuchová, M. a kol. Pedagogická diagnostika v primárnom vzdelávaní. Bratislava:
SPN, 2011. s. 98–121. ISBN 978-80-10-02053-9.
MISTRÍK, M. a kol. 2008. Multikultúrna výchova v škole. Ako reagovať na kultúrnu
rôznorodosť. Bratislava : Nadácia otvorenej spoločnosti, 2008. 88 s. ISBN 978-
-969271-4-2.
PREZENTÁCIA PRVÝCH VÝSLEDKOV. Sčítanie obyvateľov, domov a bytov. [online].
Bratislava : 29. február 2012. [cit. 21.1.2013]. Dostupné na internete:
portal.statistics.sk/vles/tk-290212-prezentacia-vnal-vnal.pdf>
PRŮCHA, J. 2011. Multikultúrní výchova. Příručka (nejen) pro učitele. Praha : Triton,
168 s. ISBN 978-80-7387-502-2.
Štátny vzdelávací program ISCED 1 – primárne vzdelávanie, Bratislava : 2008.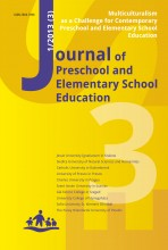 How to Cite
Vargová, M. (2019). Applying Multicultural Education at School, or How to Lead Pupils to Tolerance. Multidisciplinary Journal of School Education, 3(1). Retrieved from https://czasopisma.ignatianum.edu.pl/jpe/article/view/1274
Section
Thematic Articles