Self-education and Resilience: The Case of Agota Kristof (In an illiterate world we are always illiterate)
Autoformación y resiliencia: A propósito de Agota Kristof (En un mundo empalabrado siempre somos analfabetos)
Keywords:
Literature, Pedagogy, world rich in languages, self-formation, resilience, Literatura, Pedagogía, mundo empalabrado, autoformación, resiliencia
Abstract
It is evident that we live in a world rich in languages and tongues. Such a situation determines that human formation is an open work, never completely finished, because there are always languages and tongues to be known. Hence, the human being can be considered a kind of illiterate, as the Hungarian writer Agota Kristof (1935-2001), who took refuge in Switzerland in 1956, wrote in a short autobiographical account, published posthumously (2004). The example of this author, who had to learn French in order to survive in Switzerland, shows how learning languages strengthens and prepares us to face and overcome extreme life situations.
Es evidente que vivimos en un mundo empalabrado, rico en lenguas y lenguajes. Tal situación determina que la formación humana sea una obra abierta, nunca acabada del todo, porque siempre quedan lenguas y lenguajes por conocer. De ahí que el ser humano pueda ser considerado una especie de analfabeto, tal como la escritora húngara Agota Kristof (1935-2001), que se refugió en Suiza en 1956, dejó escrito en un breve relato autobiográfico, publicado póstumamente (2004). El ejemplo de esta autora, que tuvo que aprender francés para poder subsistir en Suiza, muestra cómo el aprender lenguas y lenguajes nos fortalece y prepara para hacer frente y superar situaciones vitales extremas. 
References
Espada, A. (2013). En nombre de Franco. Los héroes de la embajada de España en el Budapest nazi. Espasa.
Fetjö, F. (2016). Réquiem por un imperio difunto. Historia de la destrucción de Austria-Hungría. Encuentro.
Fullat, O. (2003). L'educació és antropogènesi. Revista Catalana de Pedagogia, 2, 131-161.
Fullat, O. (2016). Impertinentes. El desgarro de pensar. Edicions de la Universitat de Barcelona.
Gadamer, H.-G. (2000). La educación es educarse. Paidós.
García-Pelayo, M. (1997). Las culturas del libro. Fundación Manuel García-Pelayo.
García Voltá, G. (2012). Comprender el estalinismo. Ediciones Carena.
Guardini, R. (2000). La formación de sí mismo. Ediciones Palabra.
Kristof, A. (1996). Ahir. Edicions de la Magrana.
Kristof, A. (1998) Ayer. Edhasa.
Kristof, A. (2007). Claus y Lucas. Traducción de Ana Herrera y Roser Balagué. El Aleph editores.
Kristof, A. (2015). La analfabeta. Relato autobiográfico. Prólogo de Josep Maria Nadal Suau. Alpha Decay.
Kristof, A. (2019a). L'analfabeta. Seguit de «Conversa amb Agota Kristof», una entrevista de Riccardo Benedettini. Traducció de Montserrat Solé Serra. Barcelona. Ara Llibres.
Kristof, A. (2019b). Claus i Lucas. Traducción de Sergi Pàmies. Ara Llibres.
Llimona, J. (1973). Siempre nómadas. Península.
Mindszenty, J. (2009). Memorias. Palabra.
Prats, E. (2016). Aprendre de lletres. Literatura i pedagogia, vides paral·leles. Edicions Universitat de Barcelona.
Steiner, G. (2002). Extraterritorial. Ensayos sobre literatura y la revolución lingüística. Siruela.
Vilanou, C., Cercós, R., y de la Arada, R. (2017). Pequeña rapsodia húngara. Las confesiones burguesas de Sándor Márai y otras narraciones de la vieja Europa. Ars Brevis, 23, 243-195.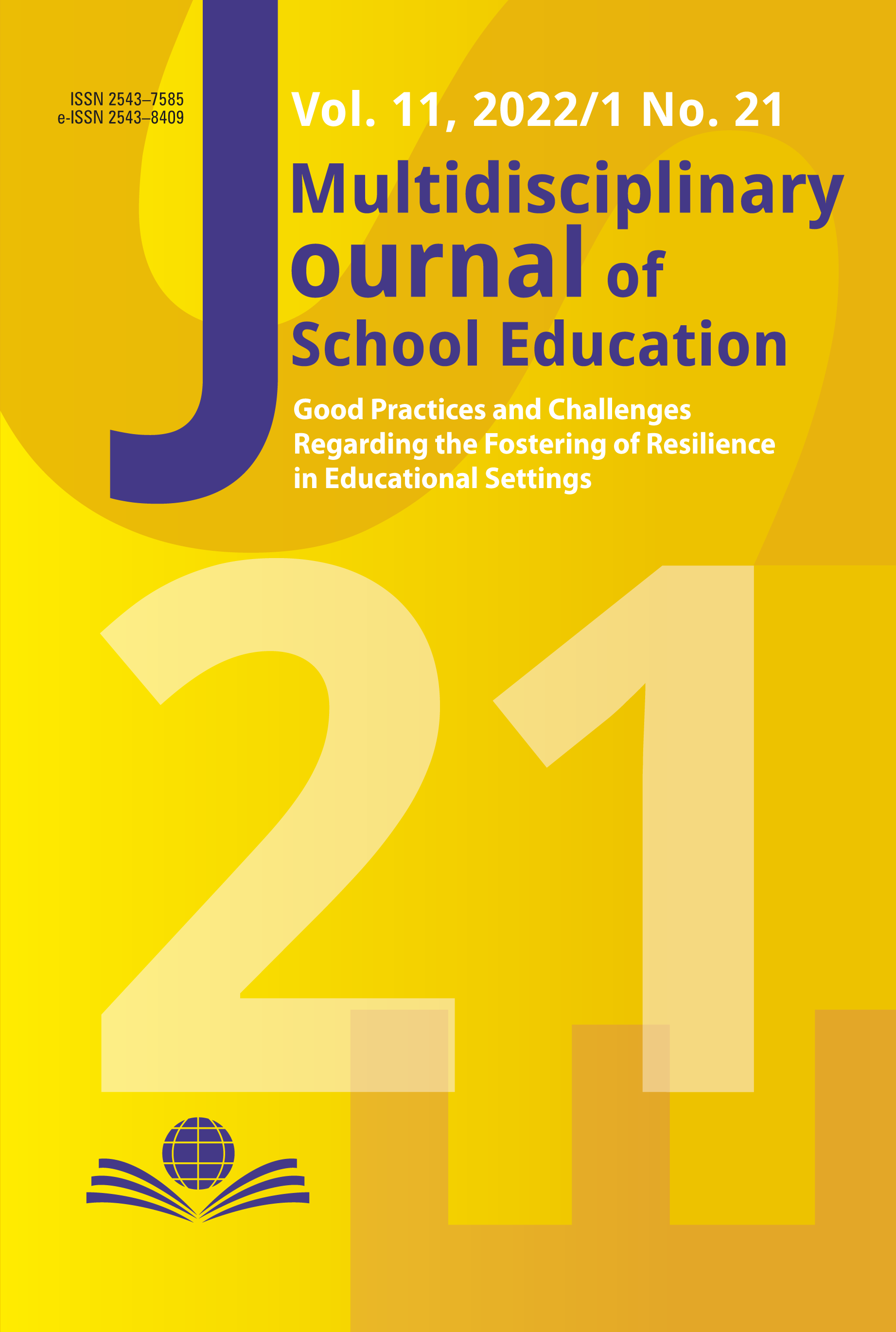 How to Cite
Cercós Raichs, R., & Vilanou Torrano, C. (2022). Self-education and Resilience: The Case of Agota Kristof (In an illiterate world we are always illiterate): Autoformación y resiliencia: A propósito de Agota Kristof (En un mundo empalabrado siempre somos analfabetos). Multidisciplinary Journal of School Education, 11(1 (21), 35-49. https://doi.org/10.35765/mjse.2022.1121.02
Section
Thematic Articles
Copyright (c) 2022 Raquel Cercós Raichs, Conrad Vilanou Torrano
This work is licensed under a Creative Commons Attribution-NoDerivatives 4.0 International License.
The Author/Authors agree(s) to publish the article free of charge in Multidisciplinary Journal of School Education in English or Spanish. The Editorial Board reserves the right to shorten the texts and change the titles.
As part of free publication mentioned in § 1, the Author/Authors agrees to make the full electronic version of their article available in the Internet.
The Author/Authors agrees to index their article in databases at home and abroad, including abstracts and keywords as well as Author's/Authors' affiliation in English and in other languages. The Author/Authors agrees to pass on the information mentioned above to the owners of these databases.
The Author/Authors declares that their publication is original and does not include borrowings from other works which might cause Publisher's responsibility, does not infringe the rights of the third party and that their copyright on this publication is not limited. The Author/Authors will incur all the costs and will pay compensations which might result from the mendacity of the following statement.
The Author/Authors declares to bear complete responsibility for the scientific reliability of the article submitted. The detailed contribution of all co-authors is defined.
The Author/Authors declares to publish the text in the Multidisciplinary Journal of School Education under a Creative Commons Attribution-NoDerivatives 4.0 International License (CC BY-ND 4.0).
For more than one author, please complete the Authorship Contributions and send it to the editorial office. Please indicate the specific contributions made by each author (list the authors' initials, e.g., JKH). Please download, complete, scan and attach the file in the system during the submission process.
Authors Statement - Authorship Contributions