Visual Thinking and Logical Flexibility as Successful Key Elements in the Resilience of Roma Children and Adults
El pensamiento visual y la flexibilidad lógica como elementos claves de éxito en la resiliencia de niños/as, y adultos gitanos
Keywords:
literature, pedagogy, empathetic world, self-education, resilience, literatura, pedagogia, mundo empalabrado, autoformación, resiliencia
Abstract
Up to 30% of the engineers in Silicon Valley in the United States are of Indian origin. And India is now one of the largest producers of technology. People of gypsy culture, because of the common Indian cultural matrix, have a greater facility for visual thinking, inductive logic and categorical flexibility. These elements, together with the consideration of the basic nucleus of socialisation that specifically constitutes the Romany families, mean that any successful pedagogical strategy must take these elements into account, always in dialogue with the school institution.
Hasta un 30% de los ingenieros de Silicon Valley, en Estados Unidos, son de origen indio. Y la India es hoy uno de los mayores productores de tecnologías. Las personas de cultura gitana, por la común matriz cultural india, presentan una mayor facilidad para el pensamiento visual, la lógica inductiva y la flexibilidad categorial. Tales elementos, junto con la consideración del núcleo básico de socialización que específicamente constituyen las familias gitanas, hace que cualquier estrategia pedagógica de éxito deba contemplar estos elementos, en diálogo siempre con la institución escolar.
References
Acton, T. & Mundy, G. (1999). Romani culture and Gipsy identity. University of Hertfordshire Press.
Adiego, I.-X. (2002). Un vocabulario español-gitano del marqués de Sentmenat. Publicaciones de la Universidad de Barcelona.
Alameda, J. (1989). El hilo del toreo. Espasa-Calpe.
Albaicín, J. (1997). En pos del sol. Los gitanos en la historia, el mito y la leyenda. Obelisco.
Albaicín, J. (1993). Gitanos en el ruedo. Espasa Calpe.
Baudelaire, Ch. (1863, ed. 1986). The Painter of Modern Life and Other Essays. Da Capo Press Inc.
Benjamin, W. (1936, ed. 2013). La obra de arte en la era de su reproductibilidad mecánica. Casimiro.
Borrow, G. (1837, ed. 2003). La Biblia en España. Alianza.
Borrow, G. (1841, ed. 1979). Los Zincali. Turner.
Botey, F. (1970). Lo gitano, una cultura folk desconocida. Nova Terra.
Clébert, J. P. (1965). Los gitanos. Ayora.
Codina, T. (2000). Gitanos de Can Tunis, 1977-1983: crónica de un proceso educativo. Mediterrània.
Croce, B. (1902, ed. 1947). Filosofía del espíritu. CSIC.
Courthiade, M. (2001): «El origen del pueblo rom: realidad y leyenda», I Tchatchipen, n. 33. Instituto Romanó de Servicios Sociales y Culturales Barcelona.
Dilthey, W. (1890, ed. 1997). Hermenèutica, filosofia, cosmovisió. Edicions 62.
Fernández López, J. (1999-2008). «El Flamenco y el Jazz. Análisis comparativo». En internet: Hispanoteca de la Universidad de Innsbruck.
Fonseca, I. (1997). Enterradme de pie. El camino de los gitanos. Península.
García Cuadrado, J.Á. (2003). Antropología filosófica. Una introducción a la filosofía del hombre. Eunsa.
Choza, J. (1988). Manual de antropología filosófica. Rialp.
Gevaert, J. (1974, ed. 1983). El problema del hombre. Sígueme.
Gila-Kochanowski, V. (1992). L'ame tsigane. Wallada.
Gombrich, E. (1960, ed. 2008). Arte e ilusión. Phaidon Press Limited.
Gómez, A. (1993). La gran redada de gitanos. Presencia Gitana.
Grande, F. (1999). Memoria del Flamenco. Alianza.
Gubern, R. (1992). La mirada opulenta. Exploración de la iconosfera contemporànea. Gustavo-Gili.
Fromm, E. (1951, ed. 2012). El lenguaje olvidado: Introducción a la comprensión de los sueños, mitos y cuentos de hadas. Nueva Biblioteca.
Hancock, I. F. (2002). We are the Romany people (Ame san e Romani dzne). University of Heartfordshire Press, Heartfordshire (Reino Unido).
Heisenberg, W. (1927). «Über den anschaulichen Inhalt der quantentheoretischen Kinematik und Mechanik» Zeitschrift für Physik, n. 43.
Herrero, G. (1991). De Jerez a Nueva Orleáns. Análisis comparativo del flamenco y del jazz. Don Quijote.
Jung, C.G. (1951, ed. 1962). Símbolos de transformación. Paidós.
Kenrick, D. (1995). Los gitanos, de la India al Mediterráneo. Presencia Gitana.
Liegeois, J. P. (1987). Gitanos e Itinerantes. Presencia Gitana.
Manfredi, D. (1957). Los gitanos. Publicaciones Españolas.
Mendiola, M. (1997). «Una diferencia alegre», I Tchatchipen, n. 17. Instituto Romanó de Servicios Sociales y Culturales.
Mendiola, M. (2000). «Algunas observaciones sobre la cultura y la "efectividad" gitana» En internet.
Merleau-Ponty, M. (1945, ed. 1985): Fenomenología de la percepción. Planeta-Agostini.
Molina, R. (1967). Misterios del arte flamenco. Ensayos de una interpretación antropológica. Sagitario.
Muñoz, C. (2007). «Rromani Àrte». Ponencia en el curso La cultura gitana, tan a prop i tan lluny. Universidad de Verano Ramón Llull.
Nedich, J.E.: Clarín, 24/07/2005; Actualidad Étnica, 11/08/2006; 2006; Actualidad Étnica, 23/05/2007 y Internet, 2008.
Peña, J. (1980). Persecución. Philips.
Pontificio Consejo para la Pastoral de los Migrantes y Gitanos (2006): Orientaciones para una pastoral de los gitanos. Edice.
Popper, K. (1934, ed. 1967). La lógica de la investigación científica. Tecnos.
Ramírez Heredia, J. (1971). Nosotros los gitanos. Bruguera.
Rodríguez López-Ros, S. (2011). Gitanidad. Otra manera de ver el mundo. Kairós.
Rodríguez Maldonado, J. (2005). «La modalidad musical flamenco». En la revista Diálogo gitano, número 103. Conferencia Episcopal Española.
Roig, R. (1967). «¿Qué hace la Iglesia por los gitanos? Diálogo con el P. Pedro Closa, capellán de gitanos», Hechos y Dichos, n. 374. Compañía de Jesús.
Nakamura, H. (1964, ed 1991). Ways of thinking of Eastern peoples: India, China, Tibet and Japan. Motilal Banarsidass.
Lucas, A. (2004). Rafael de Paula rompe su silencio: "No he sido ni una mínima parte de lo que pude ser". El Mundo, 16/05/2004.
Roig, R. (1967). «¿Qué hace la Iglesia por los gitanos? Diálogo con el P. Pedro Closa, capellán de gitanos». En la revista Hechos y Dichos, número 374. Compañía de Jesús.
Salinas, J. (2002). Curso de formación en compensación educativa e intercultural para agentes educativos. Asociación de Enseñantes con Gitanos.
Savater, F. (1992), Ética para Amador. Círculo de Lectores.
Starkie, W. (1956), Casta gitana. José Janés Editor.
Unión Romaní Española (URE), (1998): I Congreso Europeo de la Juventud Gitana. Instituto Romanó Barcelona.
VV.AA. (2003): Cincuenta mujeres gitanas en la sociedad española. Fundación Secretariado General Gitano.
Wajs, B.: (1950, ed. Ficowski, J.), Pieśni Papuszy. Wrocław. En español (2020): Selección de poemas de Bronisława Wajs (Papùśa). Instituto de Cultura Gitana, Ministerio de Cultura y Deporte.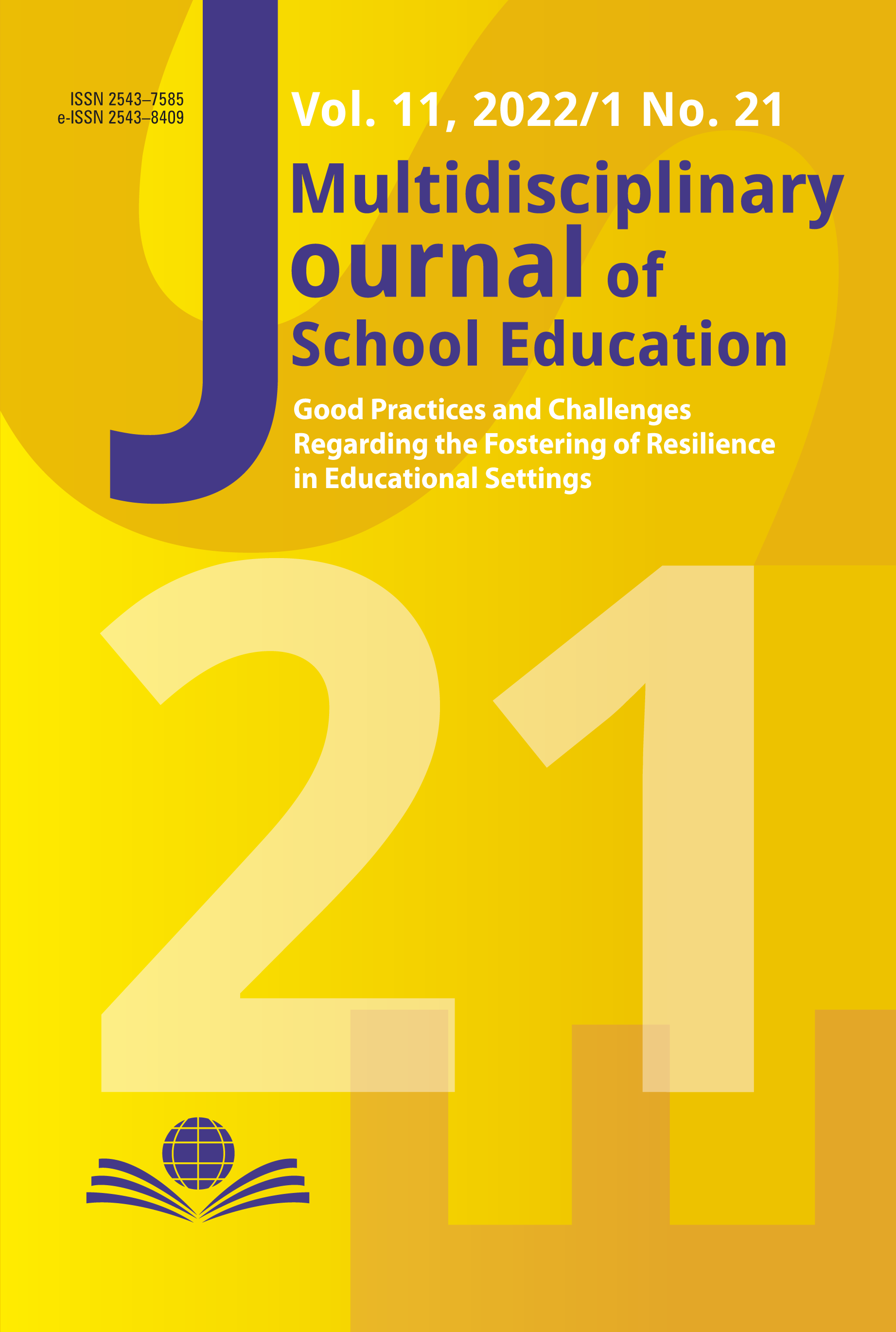 How to Cite
Rodríguez López-Ros, S. (2022). Visual Thinking and Logical Flexibility as Successful Key Elements in the Resilience of Roma Children and Adults: El pensamiento visual y la flexibilidad lógica como elementos claves de éxito en la resiliencia de niños/as, y adultos gitanos. Multidisciplinary Journal of School Education, 11(1 (21), 71-98. https://doi.org/10.35765/mjse.2022.1121.04
Section
Thematic Articles
Copyright (c) 2022 Sergio Rodríguez López-Ros
This work is licensed under a Creative Commons Attribution-NoDerivatives 4.0 International License.
The Author/Authors agree(s) to publish the article free of charge in Multidisciplinary Journal of School Education in English or Spanish. The Editorial Board reserves the right to shorten the texts and change the titles.
As part of free publication mentioned in § 1, the Author/Authors agrees to make the full electronic version of their article available in the Internet.
The Author/Authors agrees to index their article in databases at home and abroad, including abstracts and keywords as well as Author's/Authors' affiliation in English and in other languages. The Author/Authors agrees to pass on the information mentioned above to the owners of these databases.
The Author/Authors declares that their publication is original and does not include borrowings from other works which might cause Publisher's responsibility, does not infringe the rights of the third party and that their copyright on this publication is not limited. The Author/Authors will incur all the costs and will pay compensations which might result from the mendacity of the following statement.
The Author/Authors declares to bear complete responsibility for the scientific reliability of the article submitted. The detailed contribution of all co-authors is defined.
The Author/Authors declares to publish the text in the Multidisciplinary Journal of School Education under a Creative Commons Attribution-NoDerivatives 4.0 International License (CC BY-ND 4.0).
For more than one author, please complete the Authorship Contributions and send it to the editorial office. Please indicate the specific contributions made by each author (list the authors' initials, e.g., JKH). Please download, complete, scan and attach the file in the system during the submission process.
Authors Statement - Authorship Contributions