Social Activity of Outstanding Youths: SAPERE AUSO Scholarship Recipients
Keywords:
scholarship, gifted youth, SAPERE AUSO scholarship, social engagement, social skills
Abstract
In this article, the authors analyze the pro-societal activities of students who were awarded the SAPERE AUSO scholarship, which is given to students in Warsaw, Poland. The aim of this study was to investigate the scope of social activities undertaken by scholarship beneficiaries of the SAPERE AUSO Warsaw scholarship program. The analysis revealed that these students were socially active at school, in their local community and across the country. The research also showed that the students were willing to share their talents, trying to find a use for them in society. Another group of students was those with social skills: increased empathy, an aptitude for organizing work and events, and leadership skills. Such young people are socially active regardless of their educational achievements. This is particularly important for educators and local governments, as it guides thinking about the education of gifted students, not only in the context of academic achievement, but also social achievement.
References
Campbell, A. C., & Mawer, M. (2019). Clarifying mixed messages: International scholarship programmes in the sustainable development agenda. Higher Education Policy, 32(2), 167–184. https://doi.org/10.1057/s41307-017-0077-1
Campbell A. C., & Neff, E. (2020). A systematic review of international higher education scholarships for students from the Global South. Review of Educational Research, 90(6), 824–861. https://doi.org/10.3102/0034654320947783
Cosentino, C., Fortson, J., Liuzzi, S., Harris, A., & Blair, R. (2019). Can scholarships provide equitable access to high-quality university education? Evidence from the Mastercard Foundation Scholars Program. International Journal of Educational Development, 71, 1–13. https://doi.org/10.1016/j.ijedudev.2019.102089
Cross, T. L., & Coleman, L. J. (1993). The social cognition of gifted adolescents: An exploration of the stigma of giftedness paradigm. Roeper Review, 16(1), 37–41. https://doi.org/10.1080/02783199309553532
Dąbrowski, K. (2021). Dezintegracja pozytywna. [Positive disintegration]. Państwowy Instytut Wydawniczy.
de Hoyos, R., Attanasio, O., & Meghir, C. (2019). Can scholarships increase high school graduation rates? Evidence from a randomized control trial in Mexico [Policy Research Working Paper No. 8826]. World Bank. https://openknowledge.worldbank.org/handle/10986/31581
Delzell, H. J. (1998). Giftedness: Infancy to adolescence – A developmental perspective. Roeper Review, 20(4), 259–264. https://doi.org/10.1080/02783199809553903
Geake, J. G, & Gross, U. M. (2008). Teachers' negative affect toward academically gifted students: An evolutionary psychological study. Gifted Child Quarterly, 52(3), 217–231. https://doi.org/10.1177/0016986208319704
Gibbs, G. (2011) Analizowanie danych jakościowych. [Analyzing Qualitative Data]. PWN.
Gross, M. U. M. (1998). The "me" behind the mask: Intellectually gifted students and the search for identity. Roeper Review, 20(3), 167–174.
Kamińska, A. (2021). Matura na 100%. Doświadczenia edukacyjne uczniów zdolnych w polskiej szkole publicznej. [Matura 100%: Educational experiences of gifted students in a Polish public school]. Wydawnictwo Naukowe Akademii Ignatianum.
Limont, W. (2010). Uczeń zdolny. Jak z nim rozpoznać i jak z nim pracować. [The gifted student: How to recognize and work with one]. Wydawnictwo Psychologiczne.
Limont, W. (2013). "Stań na ramionach gigantów" czyli uczeń zdolny jako problem wychowawczy.["Stand on the shoulders of giants," or a gifted student as an educational problem]. Psychologia wychowawcza, 3, 125–138.
Łukasiewicz-Wieleba, J. (2018). Rozpoznawanie potencjału oraz wzmocnienia i ograniczenia rozwoju zdolności dzieci w narracjach rodziców [Identifying the potential, strengths, and restrictions of the development of children's abilities in parents' narratives]. Wydawnictwo APS.
Neihart, M. (1999). Systematic risk-taking. Roeper Review, 21(4), 289–292. https://doi.org/10.1080/02783199909553977
Olszewski-Kubilius, P. (2008). The role of the family in talent development. In S. I. Pfeiffer, Handbook of giftedness in children (pp. 53–70). Springer.
Olszewski-Kubilius, P., Subotnik, R. F., & Worrell, F. C. (2015). Conceptualizations of giftedness and the development of talent: Implications for counselors. Journal of Counseling & Development, 93, 143–152. https://doi/10.1002/j.1556-6676.2015.00190.x
Perna, L. W. (2004). Understanding the decision to enroll in graduate school: Sex and racial/ethnic group difference. The Journal of Higher Education, 75, 487–527. doi:10.1353/jhe.2004.0032
Perna, L. W. (2010). Toward a more complete understanding of the role of financial aid in promoting college enrollment: The importance of context. In J. C. Smart (Ed.), Higher education: Handbook of theory and research (Vol. 25, pp. 129–180). Springer.
Pfeiffer, S. I., & Stocking, V. B. (2000). Vulnerabilities of academically gifted students. Special Services in the Schools, 16, 83–93. https://doi.org/10.1300/J008v16n01_06
Piechowski, M. M. (2015). "Jak ptak, wysokim lotem": wzmożone pobudliwości psychiczne u osób zdolnych. ["Like a bird, flying high": Increased mental excitability in gifted people]. Psychologia Wychowawcza, 8, 122–137. https://doi.org/10.5604/00332860.1178712
Robinson, N. M. (2008). The social world of gifted children and youth. In S. I. Pfeiffer (Ed.), Handbook of giftedness in children: Psychoeducational theory, research, and best practices (pp. 33–51). Springer Science Business Media.
Santra, S. (2022, March 29). Funding to study abroad: How do you fund your study abroad program? https://blog.iefa.org/author/sagniksantra/page/2/
Uchwała nr XLVII/1463/2021 Rady Miasta Stołecznego Warszawy z dnia 15 kwietnia 2021r. w sprawie stypendiów m.st. Warszawy SAPERE AUSO. [Resolution of the Council of the Capital City of Warsaw of April 15, 2021. on scholarships for the Capital City of Warsaw SAPERE AUSO.]
Udvari, S. J. (2000). Competition and the adjustment of gifted children: A matter of motivation. Roeper Review, 22(4), 212–216. https://doi.org/10.1080/02783190009554040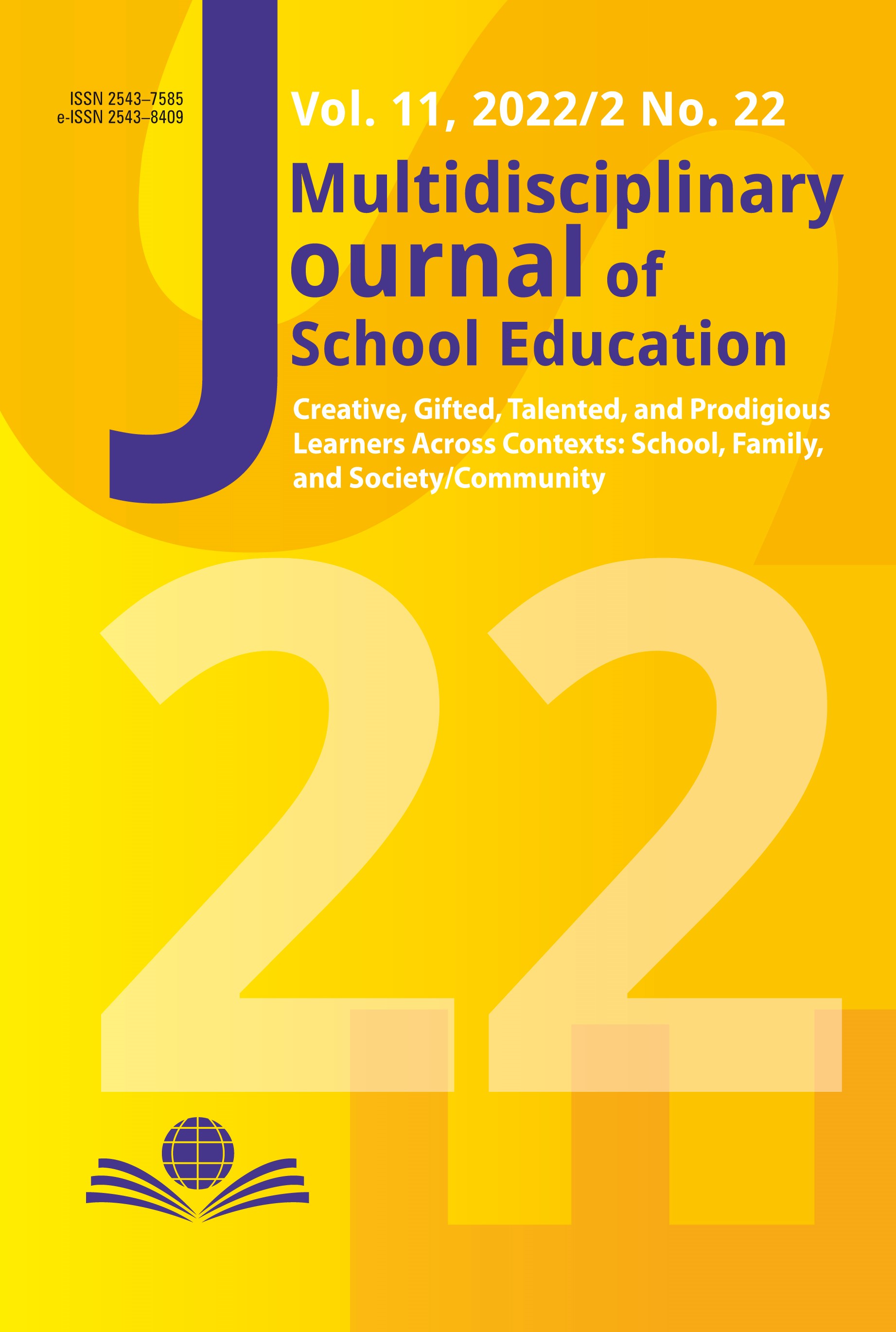 How to Cite
Łukasiewicz-Wieleba, J., Gierczyk, M., & Jaromin, E. (2022). Social Activity of Outstanding Youths: SAPERE AUSO Scholarship Recipients. Multidisciplinary Journal of School Education, 11(2 (22), 75-95. https://doi.org/10.35765/mjse.2022.1122.04
Section
Thematic Articles
Copyright (c) 2022 Joanna Łukasiewicz-Wieleba, Marcin Gierczyk, Edyta Jaromin
This work is licensed under a Creative Commons Attribution-NoDerivatives 4.0 International License.
The Author/Authors agree(s) to publish the article free of charge in Multidisciplinary Journal of School Education in English or Spanish. The Editorial Board reserves the right to shorten the texts and change the titles.
As part of free publication mentioned in § 1, the Author/Authors agrees to make the full electronic version of their article available in the Internet.
The Author/Authors agrees to index their article in databases at home and abroad, including abstracts and keywords as well as Author's/Authors' affiliation in English and in other languages. The Author/Authors agrees to pass on the information mentioned above to the owners of these databases.
The Author/Authors declares that their publication is original and does not include borrowings from other works which might cause Publisher's responsibility, does not infringe the rights of the third party and that their copyright on this publication is not limited. The Author/Authors will incur all the costs and will pay compensations which might result from the mendacity of the following statement.
The Author/Authors declares to bear complete responsibility for the scientific reliability of the article submitted. The detailed contribution of all co-authors is defined.
The Author/Authors declares to publish the text in the Multidisciplinary Journal of School Education under a Creative Commons Attribution-NoDerivatives 4.0 International License (CC BY-ND 4.0).
For more than one author, please complete the Authorship Contributions and send it to the editorial office. Please indicate the specific contributions made by each author (list the authors' initials, e.g., JKH). Please download, complete, scan and attach the file in the system during the submission process.
Authors Statement - Authorship Contributions