Creativity in Children and Pupils With Dyslexia
Keywords:
literature review, creativity, dyslexia, originality of thinking, positive aspects
Abstract
This literature review analyzes ten specialized papers which focus on the issue of higher creativity among children and pupils with dyslexia. The aim of the article is to determine the level of creativity in this group, what may might affect the level of creativity among them, and whether there are significant differences in some areas between children and pupils with dyslexia and intact (typically developed) children and pupils. In connection with dyslexia, its possible advantages – and not only disadvantages – are beginning to be discussed, which are developing in the context of possible shortcomings. In children and pupils with dyslexia, increased creative potential and excellent visualization skills have been reported. Based on foreign research, a significantly higher level of creativity was not clearly demonstrated in children and pupils with dyslexia in comparison with intact children and pupils.
References
Alves, R. J. R., & Nakano, T. C. (2014). Creativity and Intelligence in Children With and Without Developmental Dyslexia. Paidéia, 24(59), 361–369.
Barlett, D., Moddy, S., & Kindersley, K. (2010). Dyslexia in the Workplace: An Introductory Guide. John Wiley & Sons.
Bearman, M. L., Smith, C., Carbone, A., Slade, S., Baik, C., Hughes-Warrington, M. T. E., & Neumann, D. L. (2012). Systematic Review Methodology in Higher Education. Higher Education Research and Development, 31(5), 625–640.
Berninger, V. W., & Wolf, B. J. (2009). Teaching Students with Dyslexia and Dysgraphia: Lessons from Teaching and Science. Paul H. Brooks Publishing Co.
Bigozzi, L., Tarchi, C., Pinto, G., & Donfrancesco, R. (2016). Divergent Thinking in Italian Students With and Without Reading Impairments. International Journal of Disability, Development and Education, 63(4), 450–466.
Cancer, A., Manzoli, S., & Antonietti, A. (2016). The Alleged Link between Creativity and Dyslexia: Identifying the Specific Process in Which Dyslexic Students Excel. Cogent Psychology, 3(1), 1–13.
Claxton, A. F., Pannells, T. C., & Rhoads, P. A. (2005). Developmental Trends in the Creativity of School-Age Children. Creativity Research Journal, 17(4), 327–335.
Cockcroft, K., & Hartgill, M. (2004). Focusing on the Abilities in Learning Disabilities: Dyslexia and Creativity. Education as Change, 8(1), 61–79.
Csikszentmihalyi, M. (2013). Creativity: Flow and the Psychology of Discovery and Invention. Harper Perennial Modern Classics.
Çorlu, M., Özcan, O., & Korkmazlar, Ü. (2009). The Meaning of Dyslexic's Drawings in Communication Design. Dyslexia, 15(2), 147–154.
Davis, R. D., & Braun, E. M. (2010). The Gift of Dyslexia: Why Some of the Smartest People Can't Read…and How They Can Learn. Perigee Books.
Everatt, J. (1997). The Abilities and Disabilities with Adult Developmental Dyslexia. Journal of Research in Reading, 20(1), 13–21.
Everatt, J., Steffert, B., & Smythe, I. (1999). An Eye for the Unusual: Creative Thinking in Dyslexics. Dyslexia, 5(1), 28–46.
Everatt, J., Weeks, S., & Brooks, P. (2008). Profiles of Strengths and Weaknesses in Dyslexia and Other Learning Difficulties. Dyslexia, 14(1), 16–41.
Guyer, B. P. (2007). The Pretenders: Gifted People who Have Difficulty Learning. High Tide Press.
Hargreaves, S. (2008). Study Skills for Dyslexic Students. Los Angeles, CA: SAGE.
Helmuth, L. (2001). Dyslexia: Same Brains, Different Languages. Science, 291(5511), 2064–2065.
Hong, E., & Milgram, R. M. (2010). Creative Thinking Ability: Domain Generality and Specificity. Creativity Research Journal, 22(3), 272–287.
Kapoula, Z., Ruiz, S., Spector, L., Mocorovi, M., Gaertner, C., Quilici, C., & Vernet, M. (2016). Education Influences Creativity in Dyslexic and Non-Dyslexic Children and Teenagers. PLoS ONE, 11(3), 1–14.
LaFrance, E. B. (1997). The Gifted/Dyslexic Child: Characterizing and Addressing Strengths and Weaknesses. Annals of Dyslexia, 47(1), 163–182.
Lerner, J. W., & Johns, B. H. (2015). Learning Disabilities and Related Disabilities: Strategies for Success. Cengage Learning.
Martinelli, V., & Camilleri, D. (2016). Creative Giftedness and Dyslexia. Malta Review of Educational Research, 10(1), 97–109.
McManus, I. C., Chamberlain, R., Loo, P., Rankin, Q., Riley, H., & Brunswick, N. (2010). Art Students who Cannot Draw: Exploring the Relations Between Drawing Ability, Visual Memory, Accuracy of Copying, and Dyslexia. Psychology Of Aesthetics, Creativity, And The Arts, 4(1), 18–30.
Nicolson, R., & Fawcett, A. (2008). Dyslexia, Learning, and the Brain. The MIT Press.
Reid, G. (2016). Dyslexia: A Practitioner's Handbook. John Wiley & Sons.
Reiter, A., Tucha, O., & Lange, K. W. (2005). Executive Functions in Children with Dyslexia. Dyslexia, 11(2), 116–131.
Ridley, D. (2012). The Literature Review: A Step-by-Step Guide for Students. SAGE Publications.
Runco, M. A. (2014). Creativity. Theories and Themes: Research, Development, and Practice. Elsevier Academic Press.
Sternberg, R. J. (2006). The Nature of Creativity. Creativity Research Journal, 18(1), 87–98.
Tafti, M. A., Hameedy, M. A., & Baghal, N. M. (2009). Dyslexia, a Deficit or a Difference: Comparing the Creativity and Memory Skills of Dyslexic and Nondyslexic Students in Iran. Social Behavior and Personality: An International Journal, 37(8), 1009–1016.
Wajuihian, S. O., & Naidoo, K. S. (2012). Dyslexia: An Overview. Optometry & Vision Development, 43(1), 24–33.
West, T. (2008). It Is Time to Get Serious About the Talents of Dyslexics. Perspectives on Language and Literacy, 34(3), 9–11.
Wolff, U., & Lundberg, I. (2002). The Prevalence of Dyslexia Among Art Students. Dyslexia, 8(1), 34–42.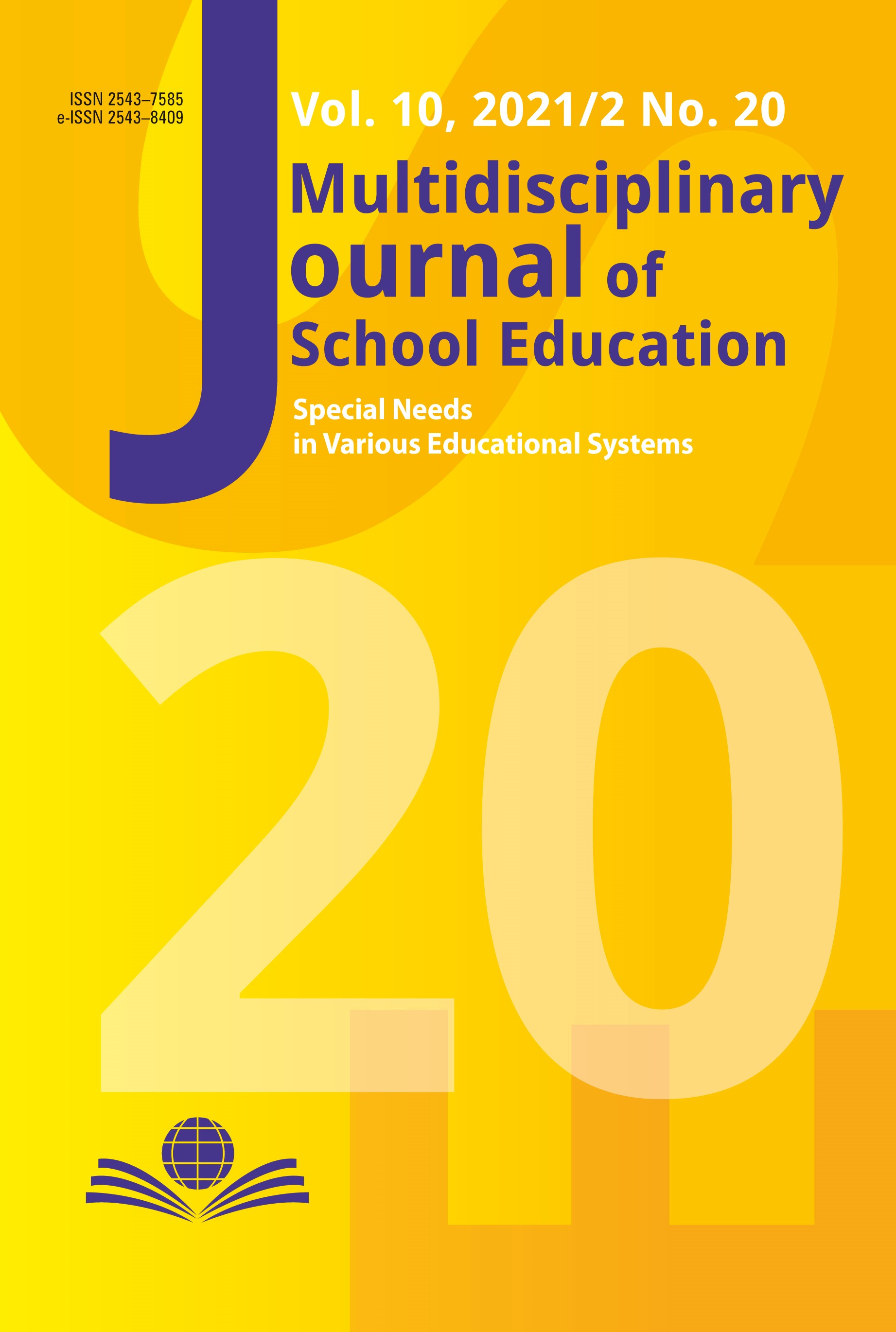 How to Cite
Viktorin, J. (2021). Creativity in Children and Pupils With Dyslexia. Multidisciplinary Journal of School Education, 10(2 (20), 15-34. https://doi.org/10.35765/mjse.2021.1020.01
Section
Thematic Articles
Copyright (c) 2021 Jan Viktorin
This work is licensed under a Creative Commons Attribution-NoDerivatives 4.0 International License.
The Author/Authors agree(s) to publish the article free of charge in Multidisciplinary Journal of School Education in English or Spanish. The Editorial Board reserves the right to shorten the texts and change the titles.
As part of free publication mentioned in § 1, the Author/Authors agrees to make the full electronic version of their article available in the Internet.
The Author/Authors agrees to index their article in databases at home and abroad, including abstracts and keywords as well as Author's/Authors' affiliation in English and in other languages. The Author/Authors agrees to pass on the information mentioned above to the owners of these databases.
The Author/Authors declares that their publication is original and does not include borrowings from other works which might cause Publisher's responsibility, does not infringe the rights of the third party and that their copyright on this publication is not limited. The Author/Authors will incur all the costs and will pay compensations which might result from the mendacity of the following statement.
The Author/Authors declares to bear complete responsibility for the scientific reliability of the article submitted. The detailed contribution of all co-authors is defined.
The Author/Authors declares to publish the text in the Multidisciplinary Journal of School Education under a Creative Commons Attribution-NoDerivatives 4.0 International License (CC BY-ND 4.0).
For more than one author, please complete the Authorship Contributions and send it to the editorial office. Please indicate the specific contributions made by each author (list the authors' initials, e.g., JKH). Please download, complete, scan and attach the file in the system during the submission process.
Authors Statement - Authorship Contributions